Most iPads come with outstanding LED flashes for your pictures and videos.
What if you're in the dark and you haven't carried a flashlight to light up your path?
Will your iPad LED work like one?
Here's What You Need To Know About Whether iPads have Flashlights
Most modern iPads feature the native iPadOS flashlight and can use the LED flash next to their back cameras for that reason. To use the flashlight, you can give Siri a voice command, open the Control Center, use the flashlight button or use a third-party app.
Many third-party apps turn the screens on older iPads into flashlights by increasing brightness, although they also work on modern devices. While you can't add the flashlight to your iPad homepage without a third-party app, you don't need to.
Apple has a flashlight shortcut on the control center and you can add it to your lock screen. Your flashlight won't work as you Facetime, but there are other ways to brighten your room.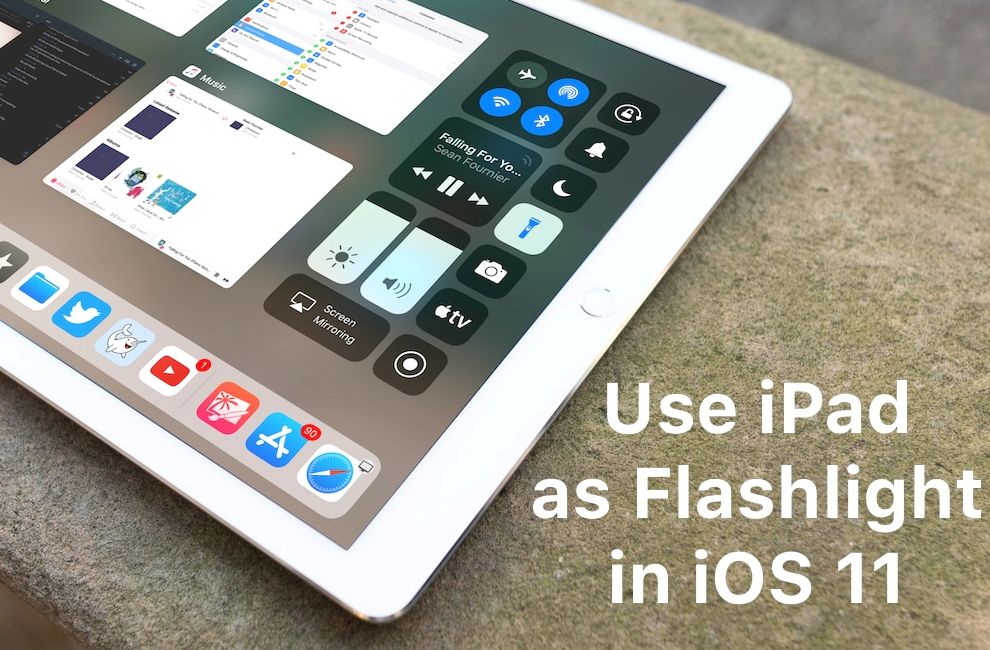 Where Is The Flashlight On iPad?
You'll find your iPad flashlight on the rear side of your device next to the camera. If your iPad lacks the native iPadOS flashlight, then you can't use it as one.
Only iPads with an LED flash or the iPadOS flashlight, which doubles as a camera flash, can work as a spotlight.
However, if your iPad has no native flashlight, you can still use its screen as one. Many third-party apps available in the Apple store can increase the brightness of the home screen, turning it into a magnificent light source.
How Do You Use The Flashlight On The iPad?
Assuming you have a recent device, using your iPad flashlight is quite easy. It comes with a ready flashlight button. However, that's not the only way. Here's more:
Ask Siri
Besides doing other cool things, Siri can help you turn on your flashlight. With Siri, you use a voice command to light up the LED flash on your iPad. For this to work, you first need to activate Siri.

Next, say:
"Siri, turn on the flashlight."
"Siri, will you turn on my flashlight?"
While Siri can start up your flashlight, it has no way to regulate its brightness. Hopefully, a future iPadOS update will sort that out.
Use The Control Center
All iPads with iPadOS 11 or higher. They have a control center that allows you quick access to essential settings and features. Here, you'll find a flashlight button that toggles the light on and off and can adjust its brightness as well.

Here's how to access the control center:
On the top right corner of your iPad screen, swipe down. This launches the control center.
Tap the flashlight button,
To turn it off, swipe down to access the control center again and press the flashlight button once.
In case you've locked your screen, press and hold on the flashlight button to deactivate it.
Use Third-Party Apps
For iPads without the native iPadOS flashlight or LED flash, you can use other inbuilt apps to brighten your screen.
There are many free flashlight apps in the iPadOS App Store. It's easy to set up and use such apps on your phone.
Unlock your screen,
Swipe up or down depending on the orientation of your iPad screen
Start up the third-party app
Once it opens, your iPad screen lights up like a bright flashlight.
To turn it off, press the home button or close the app.
Can Siri Turn On My Flashlight?
Siri can turn on your flashlight with just a simple voice command.
You can do this in two ways: Use Siri or install the "Hey Siri" feature on your iPad.
For Siri to start up the flashlight, your iPad must have an LED flash and the original iPadOS flashlight button. Sometimes, you'll need to set up the "Hey Siri" feature on your iPad.
Are There Flashlight Apps For iPads?
You'll find many flashlight apps for iPads in the Apple store. These applications will work with any iPad, including those that don't support iPadOS 14. They have exceptional functionality, especially on older iPads that don't have the standard LED flash or flashlight button.
Often, these apps are free to download but may come with ads. To remove these ads, you may have to pay about $1 to $5 for a premium version of the app. You may also enjoy other benefits, including a selection of app skins and other extra functions.
Which Flashlight App Is Best?
Apart from the iPad's native flashlight and flashlight button, it's quite difficult to pick out an app that's just as functional. Not for lack of trying, though. You'll find hundreds of options to pick from, but here are our favorite two:
Flashlight X
This app is a free instant-launch option for your iPhone, iPad or iPod. You'll need to have an LED flash on your device to use this app. A white screen to help you adjust the brightness of the flashlight is a welcome addition.
Ads feature inside this app, but by making in-app purchases, you can remove them permanently.
Flashlight X has a myriad of essential features that support the flashlight. They include:
Fast launch speeds
Several brightness levels
Neat interface icon
An emergency SOS signal
Works on iPads without LED flashes
Multilingual
To access the full app without ads, you'll pay a small in-app fee of about $3.99 to $9.99. You can also share the app with your close friends and family, adding up to five more members.
Flashlight for iPhone + iPad
As the name suggests, this app works for both your iPhone and iPad. It's a free flashlight application with different skins, an altitude tracker, compass and strobe light options.
With over 20 million downloads, this flashlight app is quite popular. Its compatible with iPadOS 13.0 or later. Also, at a fee, you can upgrade this app to a better theme and other advanced features.
This all-around app serves people of all ages above 4 years and doesn't need much storage space.
How Do You Add A Flashlight To My iPad Home Screen?
You can't add a flashlight to the iPad home screen unless it's a third-party app. While It would be a phenomenal idea to have one, iPads with a native iPadOS flashlight don't need an icon on the home screen. 
Despite that, you can still set up the flashlight button as a shortcut on your lock screen.
Can You Use a Flashlight While On Facetime?
You can't use your flashlight while on Facetime. Apple did not intend to allow the flashlight feature to work while on a Facetime call.
If you're looking for a brighter video call session:
Move to a room that has ambient lighting to improve the quality of video your iPad captures.
Ensure your face is at the center of the iPad's screen to reduce unnecessary shadows.
Use a desk lamp. A lamp helps you focus light on your face during the call..
How Do I Shut The Flashlight Off On My iPad?
You can shut the flashlight off in several ways. Here's how to go about it:
Use Siri and "Hey Siri"
One straightforward way to turn off your flashlight is to use Siri. Once you unlock your Home Screen, activate Siri. Try giving vocal commands like "Turn off my flashlight." to Siri and it will deactivate the LED flash.
Alternatively, install 'Hey Siri' on your iPad. Afterward, it can handle such tasks as turning off your flashlight.
Use the Control Center
If your iPad has a native LED flash, use the flashlight button in the Control Center to toggle the light on or off. Here's how to do it:
At the right top corner, swipe down to launch the Control Center.
To turn off the flashlight, tap the flashlight button once
In case you lock your screen, press and hold on the flashlight button to turn it off.
Close The Third-Party App
For iPads using a third-party application, launch (or relaunch) the app to turn off your iPad flashlight.
How Do You Adjust The Flashlight Brightness On iPads?
You can adjust the flashlight brightness in two ways. The two ways work for different iPad models.
Control Center
The control center lets you access more features of the flashlight. Besides turning it on, you can control the brightness settings of the flashlight. Here's how to do that:
Swipe down on the top right corner to open the control center
Long press on the flashlight button. This action opens a new menu. In this Menu, you can swipe up or down a slider to dim, super dim, or brighten the LED flash as you wish.
Use A Third-Party App
Every third-party application has a menu option that tweaks certain features of the flashlight, including its brightness. To perform these tasks, make sure to open your flashlight app from the menu.
Final Thoughts
It's pretty easy to start up your flashlight with Siri. Once you give it a voice command, it will light up your iPad in the dark. You can also activate your flashlight from the Control Center and, whenever possible, using a third-party app.
Although it's impossible to control the brightness of your flashlight with just Siri's voice command, it may soon become a feature on iPads.
While it's unlikely your iPad can light up the LED flash while on a Facetime call, Apple may change their decision and make it available too. Who knows? Time will tell.
Sources
https://support.apple.com/en-us/HT207281
https://www.howtoisolve.com/can-you-add-a-flashlight-to-home-screen-iphone/
https://9to5mac.com/2018/11/21/adjust-flashlight-brightness-on-iphone-and-ipad/
https://www.iphonehacks.com/2017/09/how-to-use-flashlight-ipad-ios-11.html