iPads are functional devices that you can use for a myriad of purposes across various environments.
You can even draw, illustrate and create graphic designs with them.
When you get to the heart of it, is this device as good as professional drawing tablets?
Here's What You Need to Know About Whether an iPad is Good for Drawing
An iPad is an excellent drawing device, matched only by professional drawing tablets. Although built for multiple purposes, your iPad will do a stellar job at design, provided you have proper tools and apps.
You can use an Apple Pencil for sketching on your iPad. Besides that, you can use alternatives like the Logitech Crayon or the Wacom Bamboo Fineline. If you prefer a hands-on approach, your fingertips will do just fine.
While your iPad cannot replace a professional drawing pad, it'll do a decent job as a substitute or complementary device. The 2021 iPad Pro is an excellent example. For significant results, you can try out using Procreate or Sketchbook apps for all your design needs.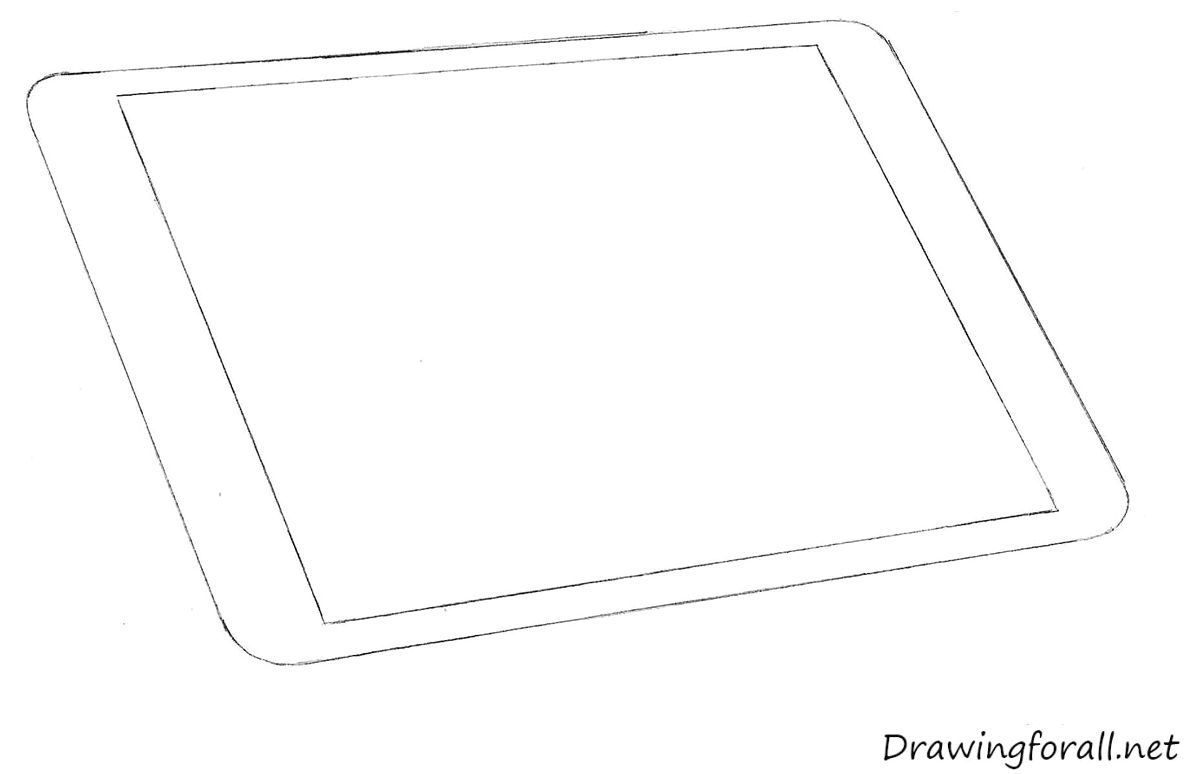 How Good Is An iPad As A Drawing Tablet?
An iPad is as good as any of the best drawing tablets they are. It has a hypersensitive touch screen you can use as a drawing surface, and its store offers some of the best drawing apps available.
Should I Buy A Drawing Tablet Or An iPad For Digital Art?
If you have to choose between the two, get one that fits your unique needs and budget. Although both devices come with an elite set of tools, they can't provide the same experience or functionality.
Drawing Tablets
Drawing tablets offer unparalleled functionality as dedicated design devices. Most drawing tablets are agnostic to different operating systems and are compatible with many drawing software.
With a budget range of $80 to $1000, you can get any drawing tablet you like. Some even come with custom stylus pens, brushes and gloves to help enhance your creativity.
These tablets allow you to control your pen strokes or tilt the screen to whatever angle you want. Most of them come with custom software to help your creativity.
Pros of Buying A Drawing Tablet
Here's why you should consider a drawing tablet:
Drawing tablets give you the best accuracy, especially when you use a drawing pen on it. They can detect differences between pen options, which makes them a lot more accurate than iPads. They're so accurate that you get a similar experience in drawing on a piece of paper.
All drawing tablets can use any drawing app and design software in the market. You can tailor your interface and the appearance of your tablet to fit your personal style or personality.
Modern drawing tablets allow you to share files and connect them to different devices in wireless mode.
iPads
iPads allow you to create your art while on the go. Through the Apple store, you also get to access a library of many high-quality drawing apps. Besides that, you can listen to music, watch movies or use your iPad as a camera.
As a beginner or intermediate artist, iPads will work well for you, especially as a multipurpose device.
Your iPad needs an Apple pencil and drawing software for it to work. IPads also cost more than many drawing pads, but that's a matter of branding than it is a matter of functionality. You'll at least need $400 to get a good iPad.
Pros of Buying an iPad
Here are some benefits to choosing an iPad:
iPads, unlike drawing tablets, let you choose your poison from a myriad of art apps. You get drawing apps that both amateur and professional artists can use.
Also, the iPad can multitask. You can play games, take pictures, make calls and send emails using it. It's also a perfect companion if music gets you creative.
Artists who use iPads to create content often enjoy carrying their devices around. They're lightweight enough to fit in your hands, and you can carry them in a portable pouch or bag.
An iPad lets you mix play and work. You can get so much more functionality out of your device, especially in the Apple store. You can create, edit or watch videos and songs, something drawing tablets can't do for you.
What Is The Best Apple iPad For Digital Drawing?
By our estimation, the latest iPad Pro 12.9 (2021 model) is your best bet for outstanding digital art. It supports the latest iPad OS 14.6 and comes packed with all the features and functionality you'll ever need.
The iPad 12.9 Pro (2021) is the first non-computer Apple device that uses the powerful M1 chip. Creating digital art can't get any faster. From its large LED display, you can now draw, share and extend your creativity into your projects.
It also gives you plenty of space to stretch your pen strokes and try out new ideas. You will get a near-perfect color display and visible markings from the Apple pen strokes.
Another outstanding development is this iPad's excellent battery life. You don't need to worry about pausing your moments of inspiration to recharge your device. This iPad also delivers enough storage space for your art and any other essential data and files.
Can The iPad Replace A Professional Drawing Tablet?
The iPad cannot replace a professional drawing tablet, but it's the ultimate alternative. Anyone can use an iPad for drawing, but professional artists need drawing tabs to take their art to the next level.
Make no mistake, iPads are just as capable as many drawing tablets. But where iPads are swiss knives, drawing tablets are surgical blades. Their functionality and tools far exceed those of the iPads.
How Do You Use an iPad For Drawing?
You can use your iPad for drawing in two ways: using an Apple Pencil, or your fingertips. With these two options, you can scribble or draw, or annotate on your iPad.
When you find an iPad compatible with the Apple Pencil, you'll find the drawing feature available by default. Even though you can still add images to your documents, you'll need advanced apps that can help you unleash your true artistic potential.
The most functional apps on the Apple store are Procreate and Autodesk Sketchbook. They'll give you the best platform to practice your artistic skills and grow your expertise.
What iPad Set Up Do Professional Artists Use?
There's no specific setup that professional artists use on iPad. All iPads will give you similar experiences. You can always adjust your settings to fit any unique needs your task may require.
All you need on your iPad is a graphic design app.
Can You Draw On iPad Without Apple Pencils?
You can. An Apple Pencil isn't something you require to draw on an iPad. You can use your fingertips or other special stylus pens instead. You may have to adjust your iPad settings to accommodate this change.
Alternatives To Apple Pencil
Here's a list of other stylus pens you can use on the iPad:
Logitech Crayon
The Crayon is the most economic alternative to an Apple Pencil. Apple has approved it for use on iPads, and that's another big plus. The Crayon has a great palm rejection and anti-slip grip technology to let you focus on your drawing.
Its amazing battery lets you draw for up to 7 hours and supports fast charging.
Wacom Bamboo Fineline 2
The Fineline 2 features an outstanding pressure-sensitive tip for drawing and sketching. It offers unparalleled precision, much like the Apple Pencil. This stylus gives you an improved grip to ensure your pen strokes are accurate and fluid.
You can use the Fineline 2 to take notes, draw or edit. It has exceptional functionality on 4th generation iPads upwards to the latest iPad series. A fair battery life will sustain you through your creative periods, and you can charge it using a USB cable.
What Apps Do Artists Use For Drawing On iPad?
You can take your pick from the Apple Store, but two particular apps stand out from the rest. Here they are:
Procreate
Few apps in the Apple store beat Procreate in delivering a dynamic experience to artists and designers. Apple built this app specifically for the iPad to give you an unparalleled experience with the Apple Pencil.
Onboard this powerhouse is over 200 different brushes, dynamic color control, gorgeous typography and mind-blowing special effects. You'll do your designs in a robust environment that runs on the Valkyrie engine and delivers a refresh rate that tops 120Hz.
Whether you're a beginner or a masterful user, Procreate provides an unmatched platform for all your graphic design needs.
Autodesk Sketchbook
Although a multi-platform app, Sketchbook works particularly well on the iPad to provide you with an outstanding drawing and illustration experience. Its natural support for a stylus pen makes it ideal for use with your Apple Pencil.
Under the hood of this behemoth is an easy-to-use interface that immerses you into the artful experience. You can take your pick from hundreds of brushes to get your desired effect. Sketchbook helps you bring the color of your designs to life, assisting you to achieve symmetry.
You can save your work and transfer it to your PC for more advanced editing where necessary. Just like Procreate, Sketchbook is easy to learn and use, both by newbies and professionals.
What Size iPad Is Best For Drawing?
The 12.9-inch screen iPad is your most ideal option for drawing. Besides that, it's portable, and you can draw, sketch or paint on it. You can use your Apple Pencil or any alternate stylus pen.
Do Professional Artists Use iPad Pro?
Professional artists use the iPad Pro. These devices offer the triple benefit of power, flexibility and freedom. iPads also have access to some of the best design software that professional designers use regularly.
Innovations like palm-rejection technology and the Apple Pencil are also helpful to the design process.
How Much Do Drawing iPads Cost?
Drawing iPads will cost you anywhere between $400 and $800. The mini iPad is available at a lower price than the latest iPad Pro, which starts at about $800.
Is An iPad Worth It For Drawing?
An iPad is worth the trouble, if you're looking for a drawing tablet. It brings together the world of everyday functionality, with the enhanced performance required for complex drawing and design tasks. You won't just use it for art, you'll also enjoy music, videos, calls and emails on it. 
Doesn't matter whether you're a newbie or a seasoned design artist, the iPad will help you deliver the best possible result for your projects. It provides you with both hardware and software options that are nothing short of spectacular.
Final Thoughts
An iPad is an excellent place to start or continue with your drawing, sketching and editing. Coupled with a powerful stylus and an appropriate design app, you can produce illustrations that match the sophistication of dedicated drawing tablets.
Its ability to standalone as a device and multitask makes it a more dynamic device, something you should consider before purchasing it.
Sources
https://www.archute.com/best-ipad-for-drawing/
https://www.apple.com/newsroom/2021/04/apple-unveils-new-ipad-pro-with-m1-chip-and-stunning-liquid-retina-xdr-display/
https://beebom.com/apple-pencil-alternatives/
https://www.pcmag.com/news/can-the-ipad-replace-a-professional-drawing-tablet
https://www.creativebloq.com/digital-art/art-on-the-ipad-1232669