Your iPad is one of the most essential devices in your life, and it can help you become more productive.
That's why you wouldn't want to lose it to water damage.
As we answer some pressing iPad questions, let's find out if iPads are water-resistant or not.
Here's What You Need To Know About iPads and Water Resistance
iPads are neither waterproof nor water-resistant. That's why you shouldn't carry them around to the beach, a swimming pool or your shower. If you must, put it inside a waterproof case or a ziplock bag.
Water damage is pretty easy to spot most times, although other times you may have to open up your device first to see it. Apple's warranty does not cover water damage, and you may have to pay the hefty cost to whoever fixes it.
However, if the water damage is minimal, immersing it in dry rice or silica gel packets can help absorb water from your device and dry it out.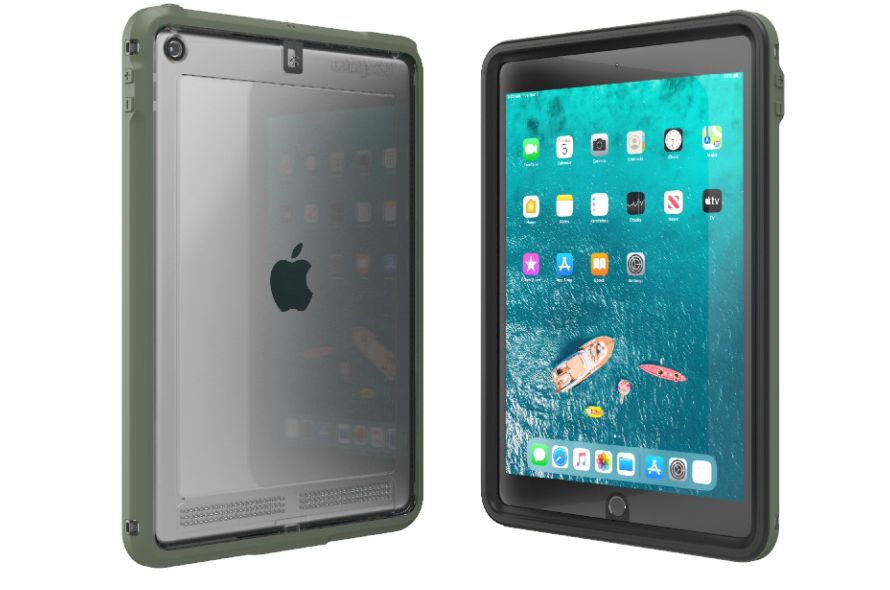 What Are The Differences Between Waterproof & Water Resistance?
Waterproof
Waterproof means that a device or object is impervious to water. It means that there's a strong barrier preventing water from getting through into the sensitive parts of a device. A waterproof object protects its interior from water.
Many electronic devices need waterproofing to prevent water damage.
Water Resistance
Water-resistance is a condition that prevents water from getting into a device, but only to a certain point. Many water-resistant devices can withstand rainfall but not full immersion in water.
Water-resistant devices use extra coatings or materials that help them resist water from permeating into them. This kind of protection only works for a short period.
Can I Take My iPad Swimming, Or Into The Shower?
You probably shouldn't. iPads aren't waterproof or water-resistant. If you take your iPad out while swimming or taking a shower, you'll damage your device. Take extra care with your iPad whenever you're around water.
Put it in a waterproof ziplock bag if you're by the swimming pool or the beach.
Your risk doesn't end there. Although you may avoid water damage to your iPad, exposing it to moisture is just as bad. If you must use your iPad in a wet place, get a waterproof casing.
If you're going deep underwater with it, get one that will also protect it from water pressure.
What Should You Do If Your iPad Gets Wet?
Here's how to attend to your iPad if it gets wet:
First, turn off your iPad and disconnect it from any power source.
Detach any removable component from your iPad, including your Sim card.
Using a soft hand towel, wipe down your device.
Ensure you dry the charging port and headphone jack to reduce the amount of water absorbed in these areas.
Immerse your iPad into a tin of uncooked rice, silica packets or both. Let it stay there for up to 48hrs
After this period, remove your iPad and try to switch it on. If it works and responds to touch commands, test the iPad with a power adapter for charging.
Afterwards, connect it to your computer using a USB cable Check whether it can recognize your iPad on iTunes.
If you've lost data, iTunes will recover it for you
Can An iPad Survive Water Damage?
Your iPad can survive water damage, although it will also depend on the amount of water exposure involved. Mild exposure may not harm your device that much, but a full immersion will cause extensive damage to your device.
How Do You Tell If Your iPad Is Water Damaged?
Here are two common ways to tell if your iPad is water damaged:
First, check for moisture behind your iPad screen or camera lens. If you see any of these signs, you're in a bit of trouble. Take your device to an Apple Care Center or a qualified technician for repair as soon as possible to prevent any further damage.
Second, you can open up your device and check for water damage. Sometimes, water damage may not be as obvious. Taking your device cover off will reveal corrosion or other signs of damage. We discourage doing this unless you've got some tech knowledge.
If you don't, visit any qualified Apple repair shop or contact Apple support.
How Do You Protect Your iPad Against Water Damage?
Here are two key ways to protect your iPad from water damage:
Get A Waterproof Case
Take your pick of any IP-rated waterproof iPad casing in the market. An iPad case with a high IP rating will waterproof your iPad. A ziplock bag can also work, albeit temporarily.
Take Caution In Wet Areas
You don't have to carry your iPad everywhere you go, especially when you're at the beach or the swimming pool. Avoid taking it to the shower too. If you must carry it, keep it secure in a cool and dry place like your laptop bag.
Does iPad Warranty Cover Water Damage?
The Apple One-Year Limited warranty doesn't cover any form of water or liquid damage to your iPad. Repair for water damage is expensive, and it would come at a hefty extra protection fee.
Apple's warranty only covers hardware repairs and accidental damage. Should your device suffer water damage, Apple support recommends you replace it.
How Much Does It Cost To Repair A Water Damaged iPad?
It's quite arduous to estimate what it costs to repair a water-damaged iPad. To start with, Apple's One-Year Warranty doesn't cover such damage. They'll charge you a full fee for any water damage repairs.
The extent of water damage will also differ across devices. Some may require fewer repairs than others, and this has a direct effect on the costs.
Many third-party repair shops repair iPads with water damage. Some succeed while others don't. Whatever the case, you have no guarantee.
Does Putting Your iPad In Rice Work?
It may work sometimes. However, when it does, it's to a certain extent. There's no proof that dry rice can absorb water from your water-damaged iPad or any other device for that matter.
That hasn't stopped people from trying, and many believe it works.
Dry rice works potentially as a drying agent, but not for any moisture that's gone past the aluminum casing of your iPad. If your device has had little exposure to water, dry rice could possibly prevent extensive water damage.
A better alternative to dry rice would be silica gel. As a desiccant, silica does an excellent job of absorbing moisture from electronic devices.
For the best results from silica gel, use it in packets. Doing this prevents silica particles from slipping through the openings of the iPad and causing further damage to your device.
How Long Do You Leave An iPad In Rice?
Leave your iPad in dry rice for at least 24 hours to 48 hours. Dry rice will absorb as much water from your device as possible, though not as effectively as silica gel.
Before doing so, remove the sim card from your iPad. Also, ensure you let your device sit in the dry rice with both the charging port and the home button of your device directly inside the rice.
How Do You Remove Moisture From A Tablet?
To remove moisture from your tablet, wipe it down with a dry rug, then pack it inside dry rice or silica gel packets. These drying agents work for most people, although sometimes this solution is only temporary.
Dry rice and silica gel packets buy you some time before taking your iPad to a repair shop. If your device had little exposure to moisture, these drying solutions may be all you need.
Follow these steps before dipping your water damaged tablet in dry rice;
Get your iPad out of the water as fast as possible to prevent more water from seeping into your device.
Next, turn it off. Do not connect your iPad to any power source to prevent short-circuiting.
After that, detach all removable parts from your tablet, including the SIM card.
Now, take a soft, dry towel and wipe any water on the surface of the tablet. Follow your towel through any openings or slots on your iPad to get as much water out as possible.
Afterwards, sink your iPad into a jar of dry uncooked rice and close it. Keep it there for anywhere between 24 and 48 hours before taking any further actions.
What Are The Best Water-resistant iPad Cases?
An excellent iPad case protects your device against water while giving you style and functionality. Here are two outstanding iPad cases for your device:
At an IP68 waterproof rating, the AICase is one of the best protective covers for your iPad Pro. It also protects your device from accidental damage from impacts and falls.
For just $40, this protective case lets you access your iPad Pro with ease. Your power and volume buttons remain within your reach, and its thin screen allows you to interact with the touch screen fully.
This thin casing covers your entire iPad, making it safe and easy to carry around. Areas with water won't bother you anymore, and you'll still take photos, videos, read and reply to emails at a whim.
Besides that, the AlCase case keeps all dirt and dust away from your device, maintaining its full functionality. To further guard your iPad, this casing comes with a neck strap you can wear to carry it around.
Another exceptional case for your iPad 11 Pro is the Kickstand Shoulder strap case, available on Amazon for just $34.
This casing has an IP68 water rating that protects your iPad underwater for up to 30 mins, at a depth of up to 6 feet. That's about the depth of the shallow end of a pool. Its clear top screen is touch-sensitive, letting you use your iPad with as much ease as before.
This shoulder case also covers your charging port, so you won't have to worry about it either. It features a kickstand that supports your iPad whenever necessary. Also, it comes with a neck strap to help you secure it as you move around.
Final Thoughts
If you're headed to a wet area or intend to use your iPad underwater, guard it with a waterproof casing. Don't let the elements damage your device, especially if you've stored essential information inside it. Invest in a reasonable waterproof case if you'll be around water regularly.
In case your device drops into a puddle or a pool of water, get an expert to fix it. While dry rice and silica look like fun to use, they're temporary solutions to a potentially vast problem.
Sources
https://www.differencebetween.com/difference-between-water-resistant-and-vs-waterproof/
https://www.gazelle.com/how-to/ipad/ipad-recover-from-water-damage
https://www.lifewire.com/save-wet-ipad-4128943
https://badapplerepair.com/how-to-save-a-water-damaged-tablet/